of Ontario Youth report having concerns about their level of anxiety
of Ontario parents who have sought mental health help for their child said they faced challenges in getting services
increase in emergency department visits for mental disorders among Canadian kids in the past 10 years
What is The School Clinic?
We are building a scalable non-profit network of high school-based clinics. Fundamentally, The School Clinic proposes to transform in the way the health system delivers and finances services for adolescents by demonstrating a patient-centered, cost-effective and scalable approach to mental and physical care. We know this is an audacious task and we know it is worth it.
Why are we developing The School Clinic?
Our Theory of Change is that school-based clinics can improve both educational and health outcomes through the streamlined efficient and effective use of education and health resources.
Robust evidence shows that existing school-based clinics have improved both educational and health outcomes. School-based health clinics can improve both attendance and grade point averages (1). The addition of mental health services to school-based clinics is associated with significant improvement in students self-report mental health including depressive episode, suicidal ideation and suicide attempts (2). We hypothesize there are even greater potential impacts and cost savings to realize through standardized and scaled approach to operational, clinical and financial management.
1) Walker Sarah et al. "Impact of School-Based Health Center Use on Academic Outcomes" Journal of adolescent health 46 (2010): 251-257. 
2) Paschall M, Bersamin M. "School-Based Health Centers, Depression, and Suicide Risk Among Adolescents". American Journal of Preventive Medicine 54 (2018): 44-50.
North American adolescents are fairly healthy and many mental health initiatives exist already. What else could The School Clinic offer?
While Canadian adolescents are fairly healthy, mental and substance use disorders, and chronic physical conditions are becoming dominant health problems. These conditions disproportionately impact socially and economically disadvantaged youth.
There is a strong foundation of youth policies, roadmaps and initiatives in Canada. The School Clinic would complement – and even catalyze – many of the existing services and initiatives by meeting adolescents where they are – in school – with integrated services in a cost-effective fashion that can truly scale.
What does The School Clinic look like?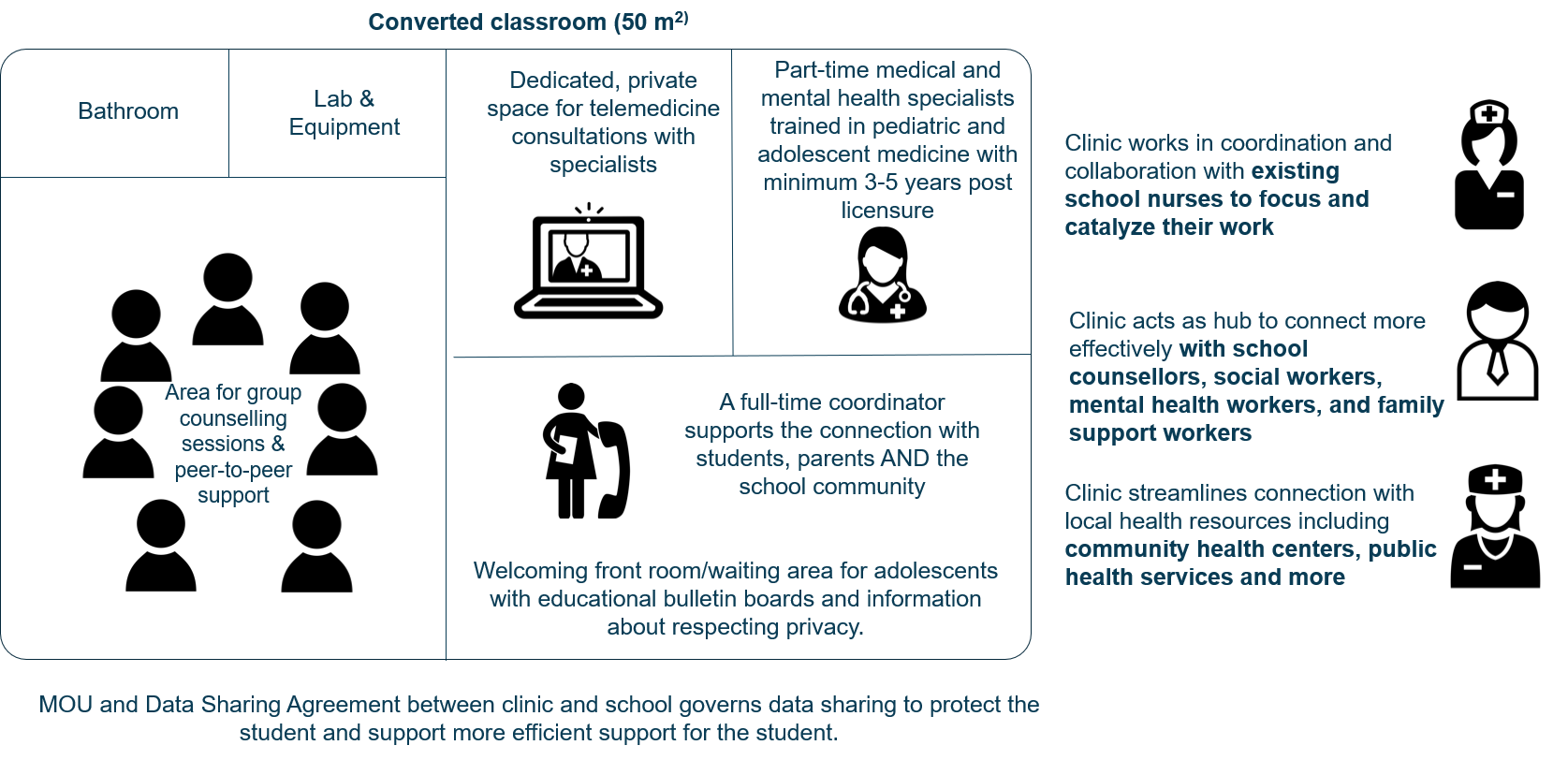 The School Clinic will deliver an integrated package of mental, physical and sexual health services to ensure that each student receives the holistic support they need through their educational journey. Evidence-informed packages of care will be uniquely tailored to each student.
The School Clinic is based on a standard "clinic in a box" model that supports cost reduction, quality improvement and strong connections within the school, the school board and the community at large. The space provides for a private, safe space for student and groups of students to gather. This model can be house in a converted class room or portable class room system.
The School Clinic has a dedicated coordinator to support the connection with students, parents, school teachers and staff, community and medical staff.
The School Clinic is staffed by part-time physicians, mental health therapists and allied health professionals. Where appropriate, care can be provided through dedicated video medicine services. These health professionals will work in concert with school nurses, school board health professionals and community health professionals.
How is The School Clinic financed?
The School Clinic will leverage a mix of existing financing from provincial health insurers and new financing models to create a sustainable network at scale.
Cost and service delivery models indicate that we can operate The School Clinic in high schools with over 1,000 students. This means The School Clinic could support over 500 schools in Ontario and over 300 schools in British Columbia.
Who are we?
We are an audacious team of professionals approaching the task of improving adolescent health from nontraditional backgrounds. We are the "fresh eyes" that this challenge needs. We have a successful track record building large school and clinics networks internationally, with an adolescent focus.
Cynthia Eldridge
Based in Toronto, Cynthia is trained as a health economist that led growth of a global network of low-cost primary care clinics from 200 clinics in 4 countries to almost 3,000 providers in 14 countries. Serves as Board Vice-Chair at Montcrest School in Ontario.
Phil Frei
Based in Toronto, Phil is the co-founder of Bridge International Academies, a network of >500 primary schools that serve >100,000 students from families living on less than $2 a day, across Kenya, Nigeria, Liberia, Uganda, India and more.
Mara Hansen Staples
Based in Vancouver, Mara has championed efforts that bring health care to people in communities where they already are. She led investments in scaling innovations in primary care through medicine shops, in networks that now engage over 12,000 outlets in Tanzania and spreading to Nigeria, DRC, Liberia, Uganda, Zambia and more.
Alyssa Pyke
Based in Seattle, Washington, Alyssa led Washington state's largest network of school-based health clinics for Neighborcare Health, where she grew the 16-clinic program to profitability while providing primary care and mental health services in lower-income areas. Currently sits on the Board of Directors for the Washington School-based Health Alliance.
Where are we with The School Clinic?
We aim to start operations in 2019 with 3 clinics and quickly scale to 5 clinics in 2020 and 12 clinics in 2021.
We are looking for start-up financing to support proof of concept and address fundamental research questions and school boards interested in partnering to improve the education and health outcomes of their students.
If you are interested in learning more about The School Clinic or partnering with us, drop us a note below. 
Get In Touch
If you are student, a teacher, a school board, a clinician, an allied health professional and are interested in learning more about The School Clinic or partnering with us, drop us a note.